What is the best rack to put the amplifier ?
The supporting board of audio components intends first to connect the component to a static and steady physical reference and second to be itself as neutral as possible.
Thus, puting component on resonating materials seems really a bad idea. Meanwhile, some materials at first non suspected for resonating do in fact much more than expected : glass, marble, even granitron and all minerals and metals have very poor self damping modulus and allow vibrations to stay in, be amplified and sent back to component.
The ultimate material is wood. Wood is made of oriented fibers that conduct energy and reduce it when energy has to pass from one fiber to an other. More, the plywood behave much better than solid wood because of its thin cross layers that allow a maximum spreading of the energy. Pressed wood and "medite" powder wood do not spread energy because they lost the fiber structure of real wood.
For these reasons, avoild any stand made completely or partially with :
- Minerals, glass, marble, granitron, ceramic : dry sound, much trebles, loss of nuances
- Carbon fiber, compounts, polyester, etc : like above
- Metal, steel, aluminium, .... : loss of nuances, agressive sound
- Pressed wood and medite : loss of detail and nuances
- Solid wood : expensive and not worth small plywood tears from far: simplified music, loss of nuances
- Springs, rubbers, magnets, air chamber : loss of trebles, detail and nuances
To our point of view, combinating minerals with metal with rubber and with every thing else passing by, is not a demonstration of know how...
As soon as the life is killed by poor sounding audio racks, tonal balance remains the only thing that can be dicussed, unfotunately...
Eventually, if you have a solid, well build heavy and steady wood peace of furniture that could receive your equipment, it has much chances to sound far better than most of the Super High Tech Space or Formula One technology ( ! ) stands out there.
And still, you can add a thick board of plywood under each component, for even better results....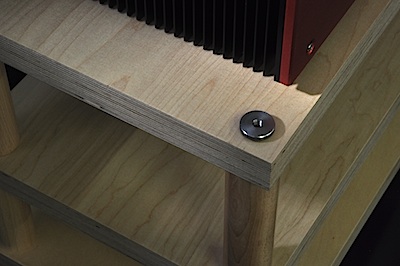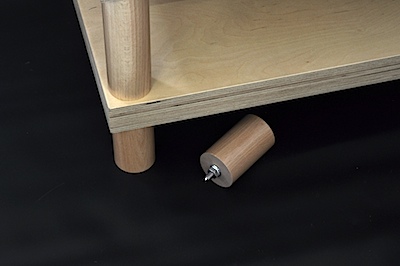 NEWS 2013 : The new and improved version of Lavardin Technologies hifiracks is now available under the brand name K-rak
K-rak by Lavardin Technologies K-rak UNO et K-rak DUO
These racks are hand made for us by the best woodwork experts in the "Pays Basque" and the "Anjou". Nothing exotic. They weight much, 38Kg for 4 tears, they are made of true high quality materials and cost more than traditional hightech hifi stands using glass, metal tubes, carbon fiber, aluminimum or assembled solid wood bits ...
They look simple, in the purest Form Follows Function tradition and there is no mad science behind, they are the result of 15 years of experience and hundreds experiments to make any good components to sound at its best.
Ask for a trial and compare with the hifi racks around: results are amazing !